Take a Roadtrip to see Arkansas Fall Colors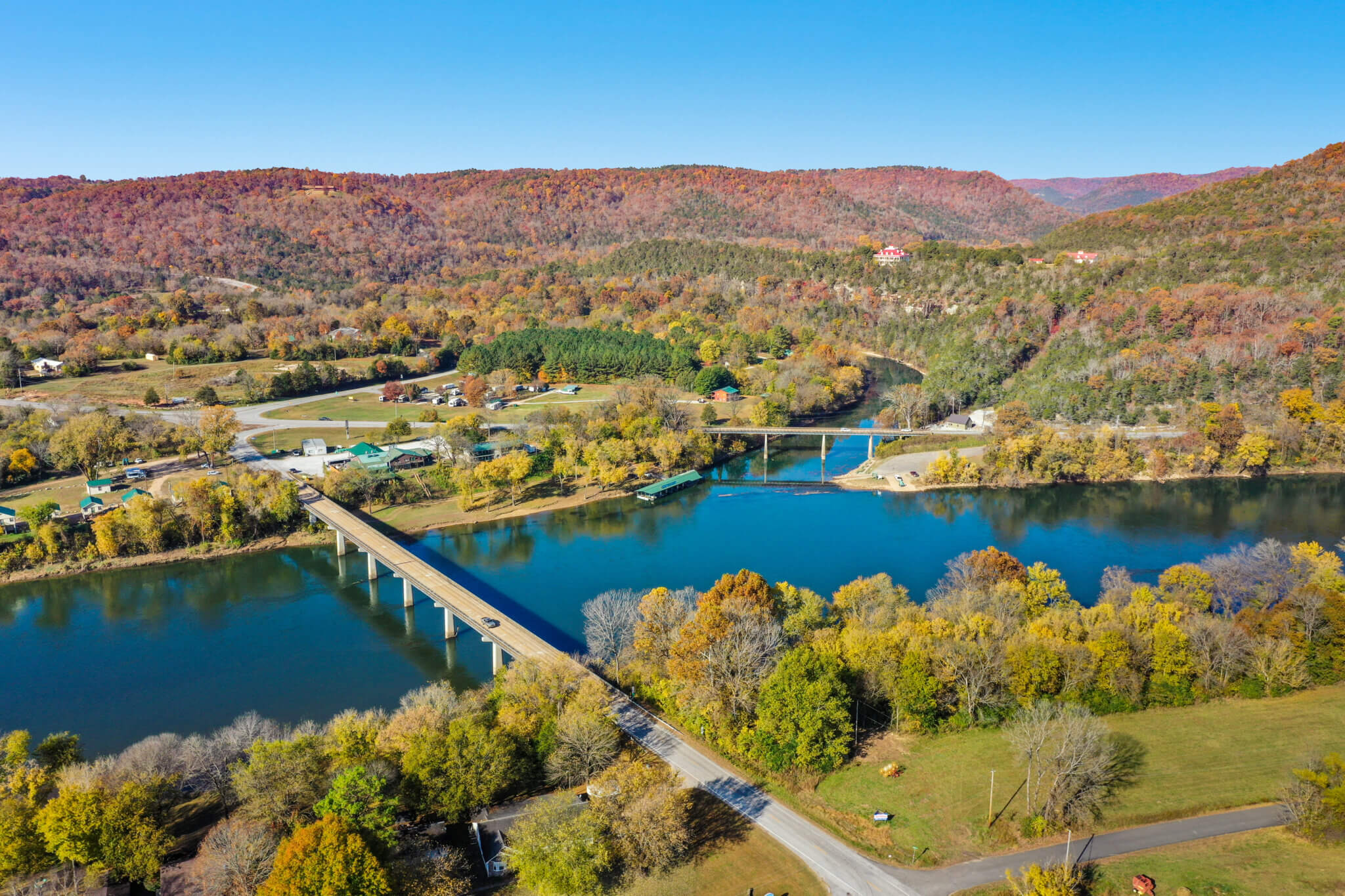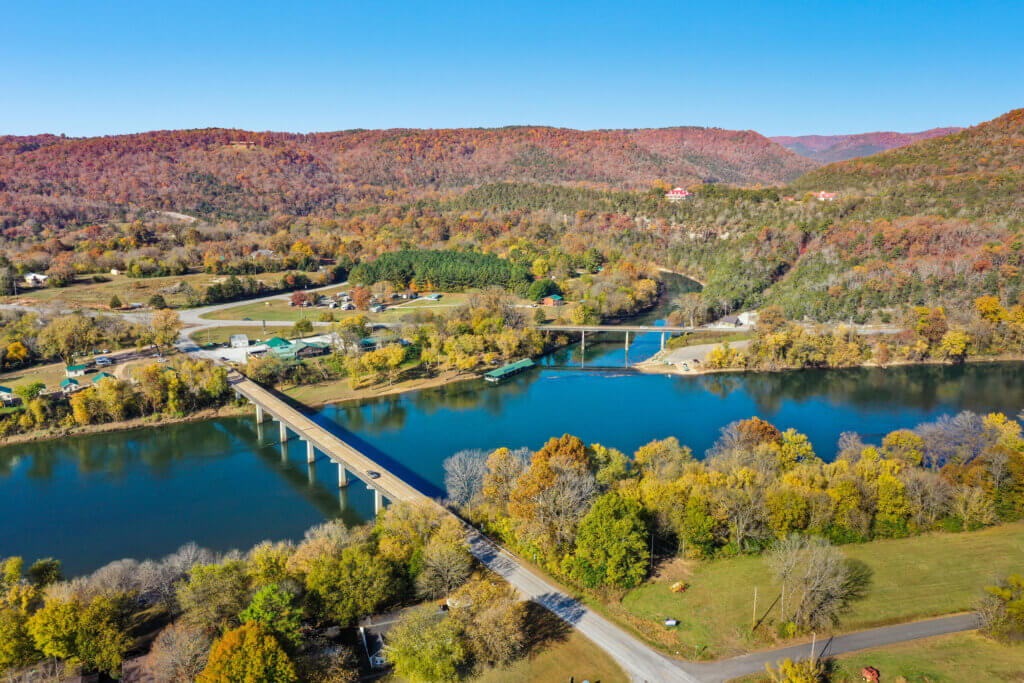 Fall colors are almost here! So get ready to jump in the car and cruise along the best roads for leaf peeping! Due to the wide variety of tree types, our area is wonderful for fall colors!
We're taking you along the famous Push Mountain Road, renowned around Arkansas for beautiful twisty turns and great views. Motorcycle riders especially adore it. We'll suggest a few great stops along the way for overlooks, good eatin', and great hikes. Check out the Ivy Library for additional activities we recommend.
Let's Get on the Road
Starting off from the historic Mountain View square, the Stone County Courthouse, we'll head east and take a left turn on Highway 5 towards Allison, Arkansas. When you reach Angler's Restaurant, turn right and cross the bridge. In a couple miles you'll come to our first recommended stop: Highway 9 Overlook. Keep scrolling to view the Google Maps route I've created for you at the bottom of the page.
Then we'll continue a couple miles, and turn left on Hwy 13 / CR 199 / Mt Olive Road towards Boswell, Arkansas. Turn right on Boswell Rd which continues to Calico Rock. You'll be on a gravel road for a few miles but it's in great condition so you won't even notice! Take a moment to check out Big Piney Creek, you'll cross it just before it empties into the White River. You'll follow the river until you reach the wonderful little town of Calico Rock, Arkansas. Stop on the main drag for a walk around. You won't want to miss out on the craft + antique shops and the newly renovated Calico Rock City Museum. Juniper's Backdoor is great for a pint or cocktail.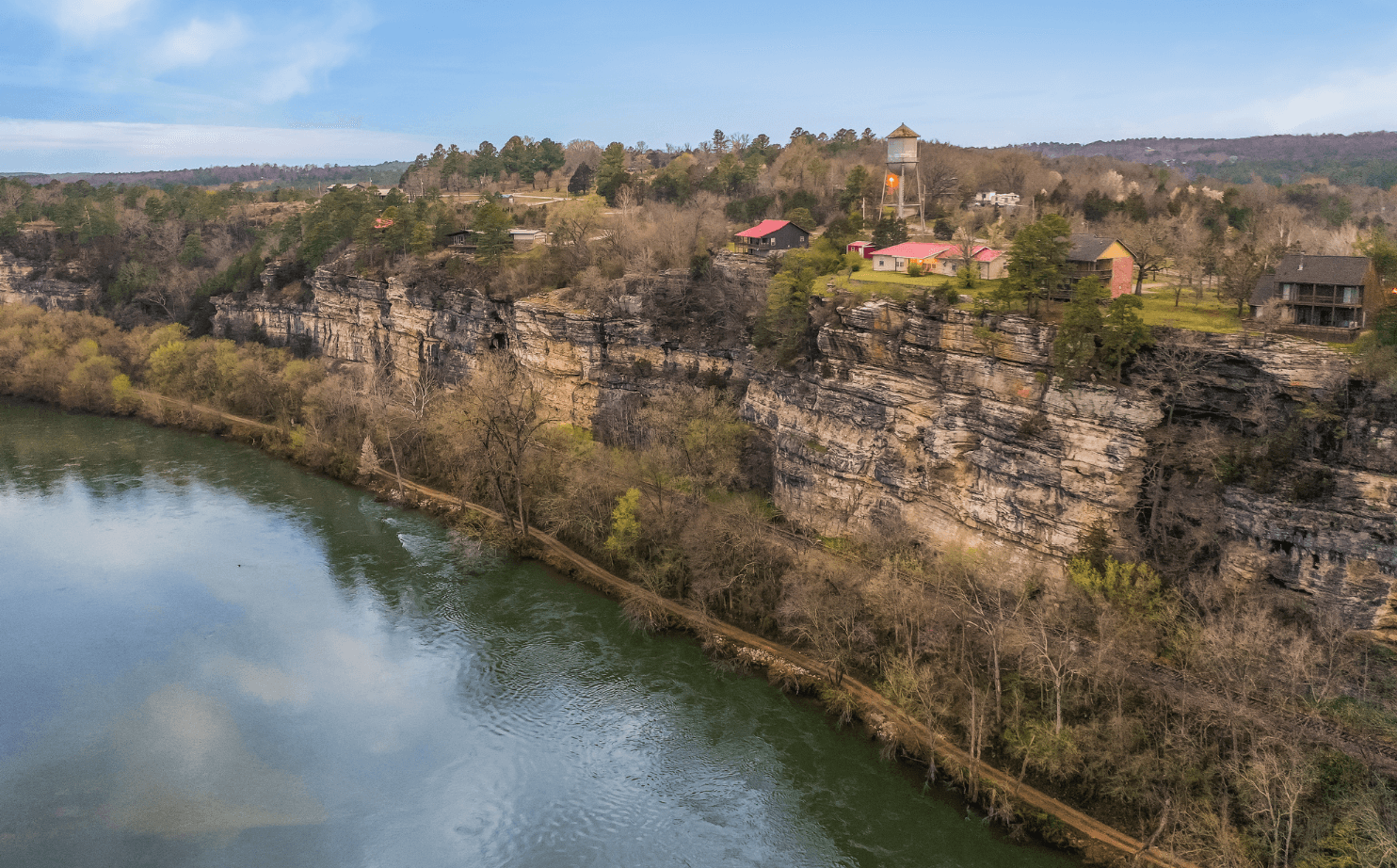 Stop at a Bluff
A short 15-minute detour from our route will take you to City Rock Bluff, with amazing views of the White River, especially beautiful during Fall. Careful here, there isn't a barrier between you and the river! Retrace your steps back through town and continue along Highway 5 towards Norfork, Arkansas.
I cannot recommend Heidi's Ugly Cakes enough for an amazing lunch. The best sandwiches in the WORLD. I'm not a sweets person, but her desserts are fought over every day!
River Overlook
Leaving town, you'll pass Norfork River, which is the tailwater of Lake Norfork. If you're a fly-fisher like myself, you'll want to stop at the Bill Ackerman/River Ridge Walk-in Access. It's handicap accessible and offers great views of the Arkansas fall colors from the dock.
Leaving the river, you'll turn right on Highway 5 again, and continue just a bit to the Norfork Lookout Point. Careful, the turn is on your right, it comes up quickly and is a steep uphill for your car.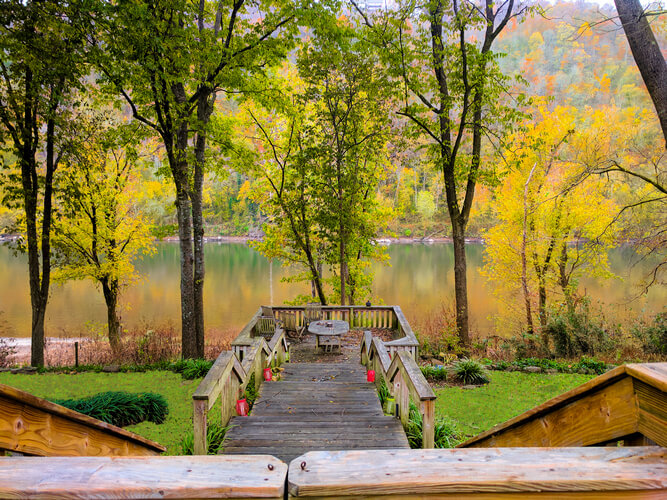 Retrace your steps to the last intersection. Turn right on Highway 201, then a quick left onto Highway 341 aka Push Mountain Road. You will love this section, the best for fall colors in Arkansas.
A Short Hike
A great suggestion from one of our leaders, Cheyenne Morrow, is to stop and hike down to Dewey Canyon Falls. It is about a mile one-way and is gorgeous once the leaves start changing. Just remember that you have to climb back up everything you hike down!
As you continue, check out Push Mountain Lookout Tower on your right. It's not recommended to climb it thought, it's an old fire tower.
Let's Go Home
If you'd like to head back to Mountain View, continue along Push Mountain Road until it t-bones with Highway 14. Turn left to go home.
However, if you still have energy, we have one last recommended stop…our very favorite Gravity BrewWorks. When you arrive at the junction of Push Mountain Road and Highway 15. Turn right and go about 2 miles. You will see the brewery on the right side. If it's a Thursday afternoon, you might find all of us relaxing with our friends – pints on us!
Road Trip Directions
Check the Arkansas State Parks website for pictures by visitors. This will help you judge exactly how the autumn colors in Arkansas are changing.
Even better, just text us on our office number at 870-292-6936 and we'll let you know how things are looking.