We want you to have a connection to this area. 
Lean on us to help you chill out and get to know the local people and their places. Find out firsthand why this area has the hold that it does and the passion it incites within its residents. What if you could charge your electric vehicle at our office while you float a river? Kayaks, firewood, bikes – we've got everything you might want to add to your adventure! Read on!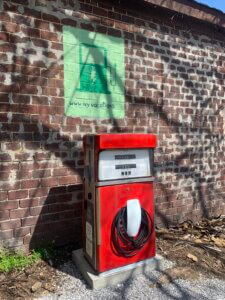 *New* EV Charger
We have installed an Electric Vehicle charging station near the Mountain View square. It is a Tesla Level 2 charger, which also has a J1772 adapter that allows most electric vehicles to charge. In an effort to give electric vehicle owners easier access to our area, we not currently charging for the use of the station but welcome donations towards our green initiative. The charging station is installed in an old-style gas pump and is located behind Avey's Garage at the corner of Franklin & Jefferson streets, just look for the green mural! As always, give us a call for more information.
Add To Your Stay - Packages & Activities